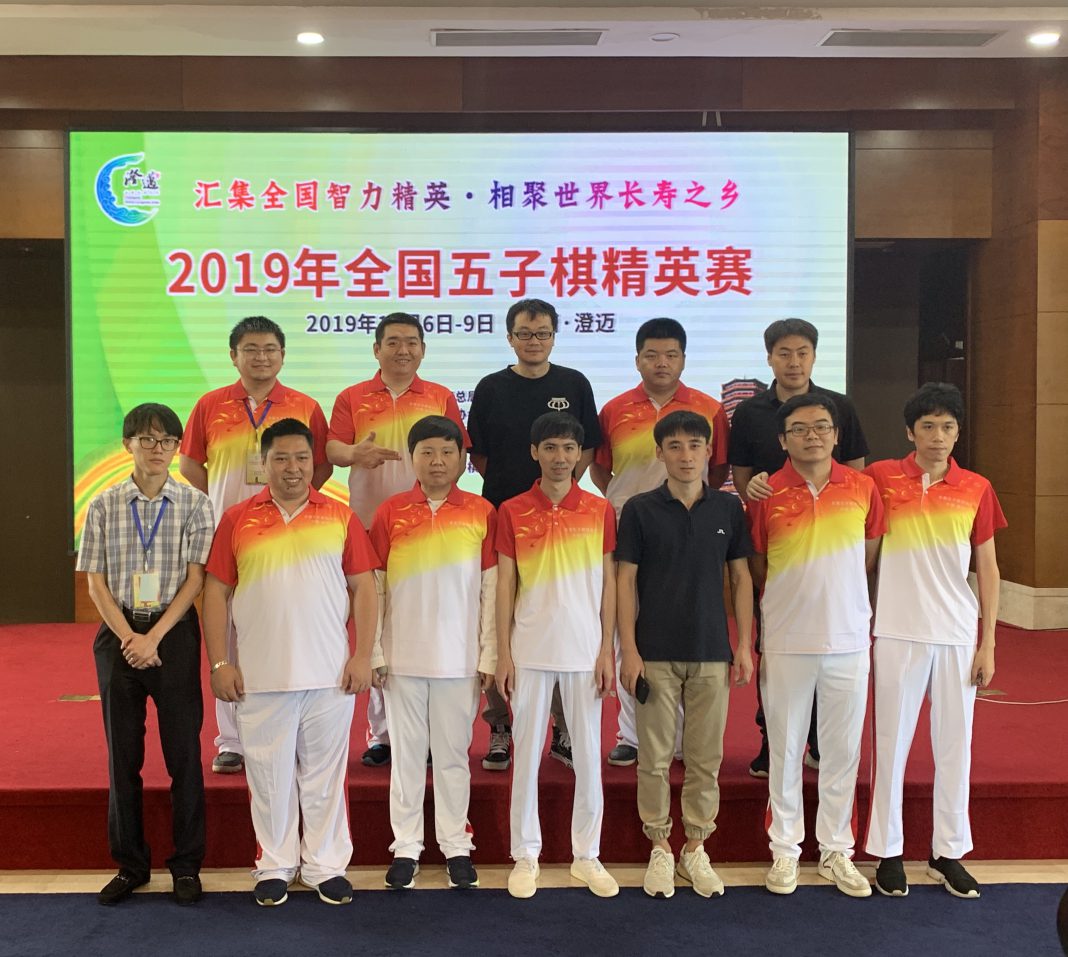 The competition in Hainan has finished and Champions are crowned. Congratulations to Yang Yanxi for winning second major tournament in short time as he also won the World Renju Open in Anji a month ago. Among women Li Xiaoqing won the tournament ahaed of Wang Qingqing and the Women World Champion Wu Zhiqin.
Here you can find some official news channel videos about the event.
Men's group:
Yang Yanxi Shandong 9
Qi Guan Chengdu 8
Li Yi 7.5
Cao Dong Hubei 6.5
Xi Zhenyang Jiangsu 6.5
Lan Zhiren Shandong 6
Lu Hai Hainan 5
Zhu Jianfeng Shanghai. 4.5
Huang Liqin Guangdong 4.5
Mei Fan Hubei 3.5
Liu Yang Shandong 3.5
Zhang Yifeng Jiangsu 1.5
Yang Yanxi
Women's group:
Li Xiaoqing Chengdu 8.5
Wang Qingqing Hubei 7
Wu Zhiqin Hubei 6.5
Dong Xiaoli Hubei 5.5
Cheng Yanzhen Zhejiang 4
Liu Xun Hubei 4
Yu Yajun Hainan 4
Huo Jiuxu Henan 3
Wang Yelin Shandong 2.5
Luo Yan Hainan 0
Yang Yanxi and Li Xiaoqing
The system for qualifying to the final is that top 3 of previous tournament will get automatic individual seats, top 5 of The Open Championship will get individual seats for the next year's final, also top 3 of Chinese Open that is played in summer will get individual seats and one seat is given to the organizer.
Li Yi vs Qi Guan
The 7 rounds Yamaguchi rule Chinese Open Championship Tournament results:
Men's group:
Li Yi
Cao Dong Hubei
Huang Shengming Hainan
Zhang Yifeng Jiangsu
Huang Liqin Guangdong
Ni Zhongxing Anhui
Chen Jing Jiangsu
Jiang Qiwen Shanghai
Lan Zhiren Shandong
Lu Hai Hainan
Liu Yang Shandong
Zhu Jianfeng Shanghai
Xi Zhenyang Shanghai
Gao Cong Beijing
Mei Fan Hubei
Zhu Kai Guangdong
He Shirui Chengdu
Zhao Chengzhi Hainan
Chen Jie Hebei
Huang Yufeng Shanghai
Zhu Tianyi Beijing
Chen Xin Chengdu
Xu Jiaqi Hebei
Li Jiajun Shandong
Zhong Yuyang Chengdu
Yin Licheng Hubei
Jiao Zhengrui Shandong
Zhang Shuhao Chengdu
Li Shuo
Zhang Wenbo Henan
Hu Long
Jin Hongli
Ge Lingfeng Shanghai
Zhang Weichao Tianjin
Lin Yizhong Guangdong
Cao Shuang
Chen Kaidi
Han Ningyuan Hainan
Zhou Yang
Huang Daxing Hainan
Chen Hongquan Hainan
Two World Champions Cao Dong vs Qi Guan
Women's group:
Huo Jiuxu Henan
Dong Xiaoli Hubei
Wang Yelin Shandong
Xiao Huifang Jiangsu
Yu Yaping Guangdong
Wu Zhiqin Hubei
Wang Qingqing Hubei
Liu Xun Hubei
He Xian Shandong
Liu Zhao Hebei
Li Xiaofang Guangdong
Yu Yajun Hainan
Luo Yan Hainan
Xu Jiaxin Shanghai
Cheng Yanzhen Zhejiang
Wang Zhe Shanghai
Wang Jiayi Shandong
Gong Yixuan Hebei
Liu Xun vs Wu Zhiqin