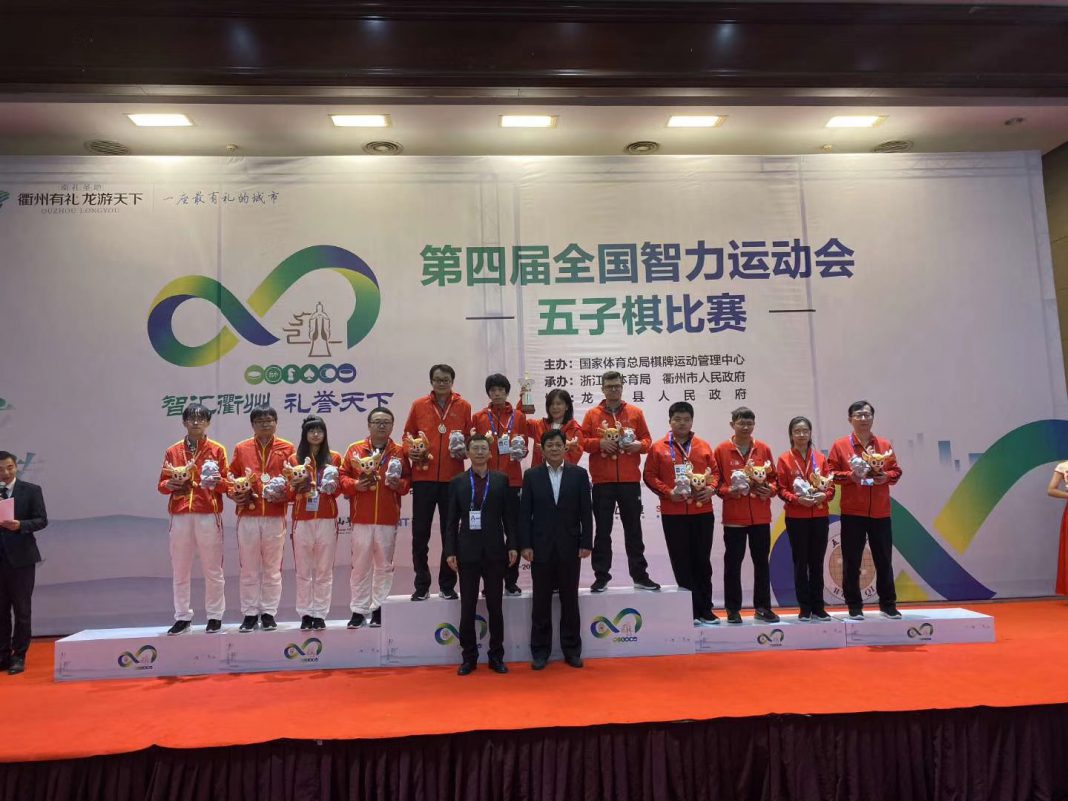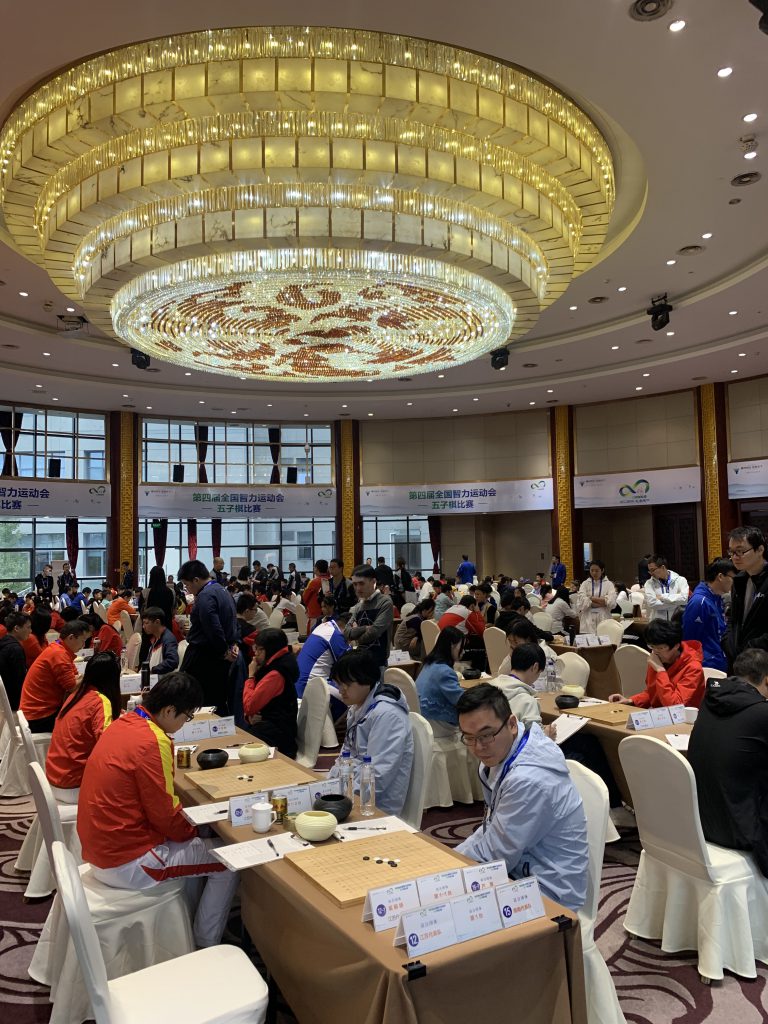 Part I. A Master Contest Full of Highlights
The 4th National Mind Sports Games of Renju was held in Longyou county of Quzhou city, there are fantastic hills and crystal clear rivers. It's a place with long history of civilization where renju games would bloom with new glory.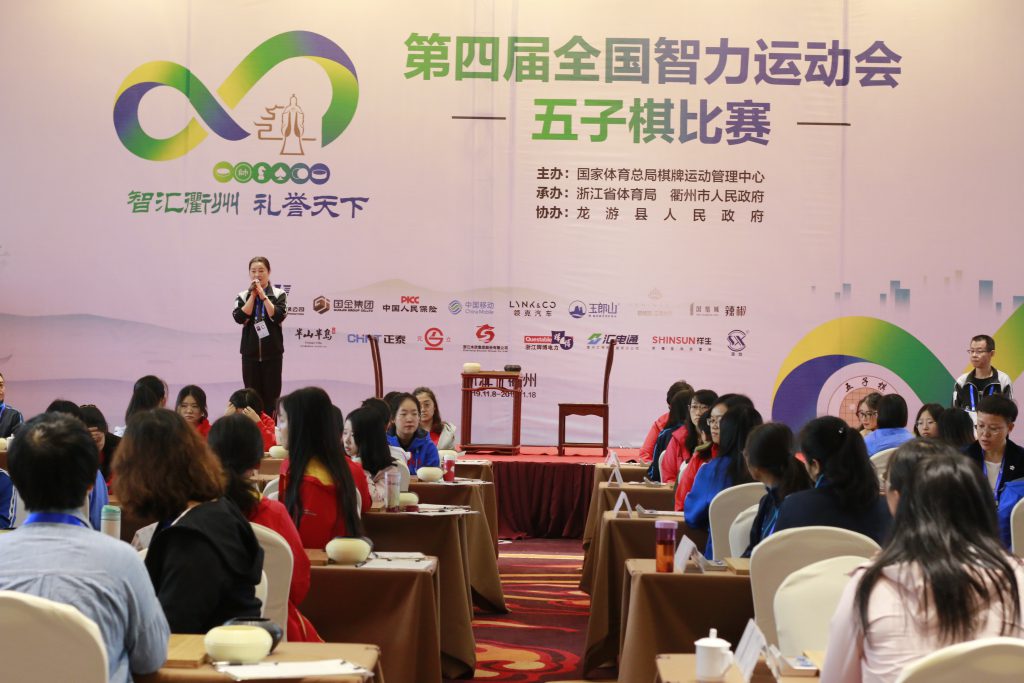 There were 30 teams attended the sports games. 29 of them each representing a province and one representing the Financial Sports Association. This time there were 6 more teams compared with the 3rd National Mind Sports Games in 2015. And participants increased from 159 to 291 this time.
This time the game of renju were consisted of men group, women group, mixed adults teem group, teenage boys group, teenage girls group, mixed teenage group, totally 6 groups. Teenage groups was specially added this time, because it will provide a good platform for young people to take part in renju games. Mixed adults group is another change compared with last time due to its high strategy and popularity.
This time the Mind Sports Games was more intense than any of the past. Most of the players were aged 30 with long period of special training, and gained a lot of contest experience. The players were coming from all walks of life, even some of them are national renju champions and world renju champions. Cao Dong represented Hubei was both championships. Team World Renju Champion Zhu Jianfeng was a professional renju coach. From women participants, Li Xiaoqing had got 3 times of national elite renju champions and women world renju champion. Also there were QiGuan, YangYanxi, LanZhiren, HuoJiuxu, WuZhiqin, ShenLanxin etc, many famous players took part in the mind sports games.
Part II. Referees: Meet at Longyou, dedicate in Longyou
It was the end of autumn and getting colder while the Mind Sports Games were smoothly progressing with high enthusiasm. The 6 groups were sepereated in two stages from 9th November to 18th November. Leaded by Chief Referee Yang Chunyan, referee group was orderly organizing such high level, long period tournaments.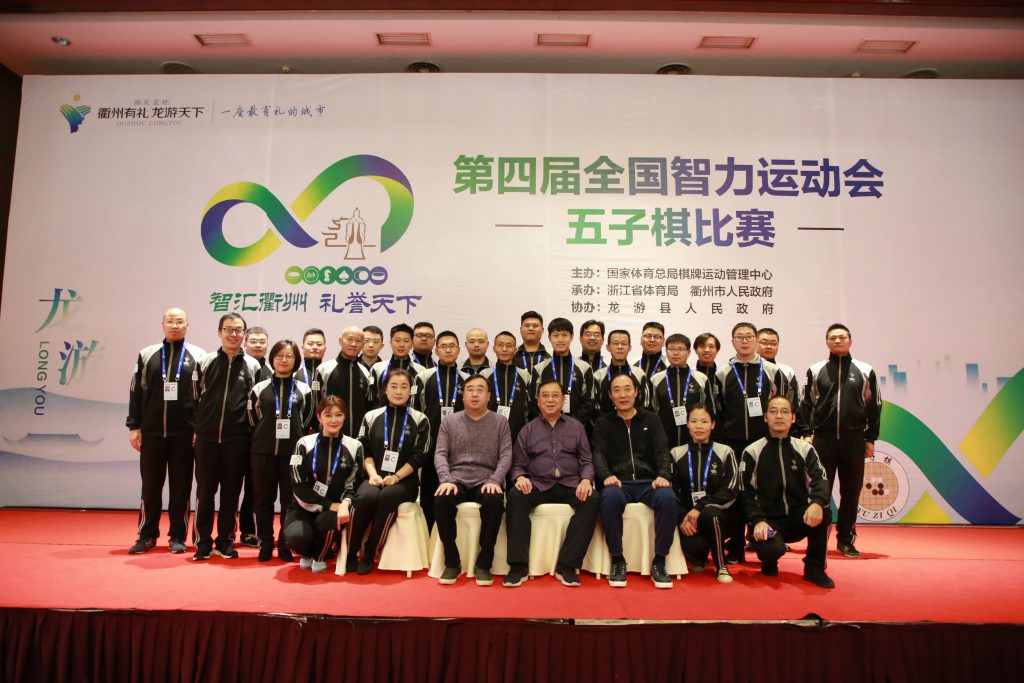 Referees were started prepare for the tournaments from 5th Nov. Came from different places of china, cooperated with each other, setting up the hall, they soon became a teem.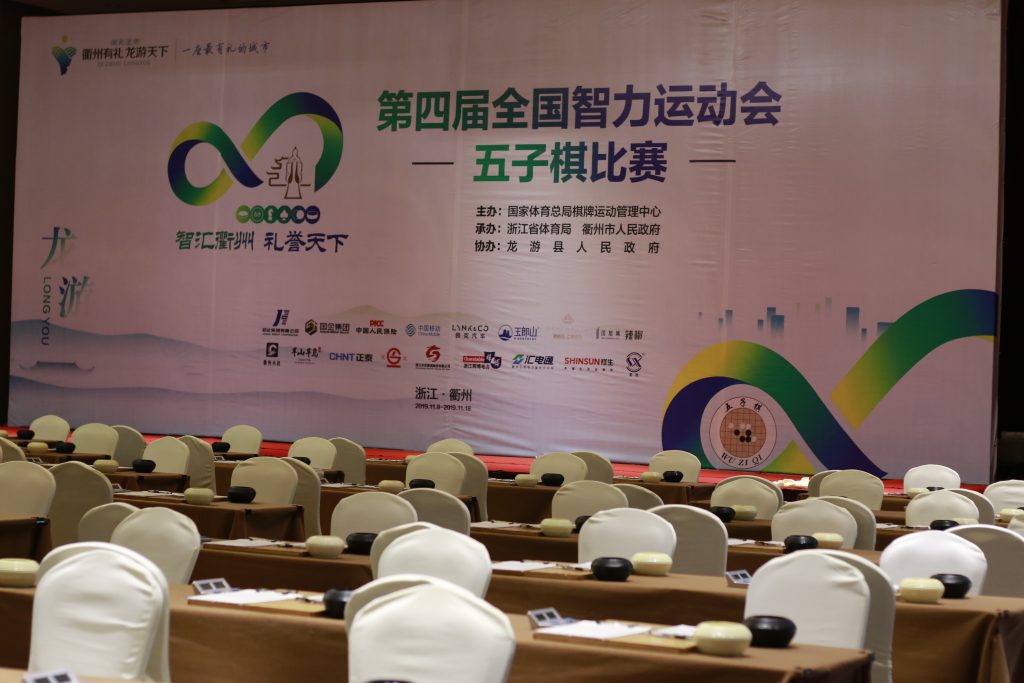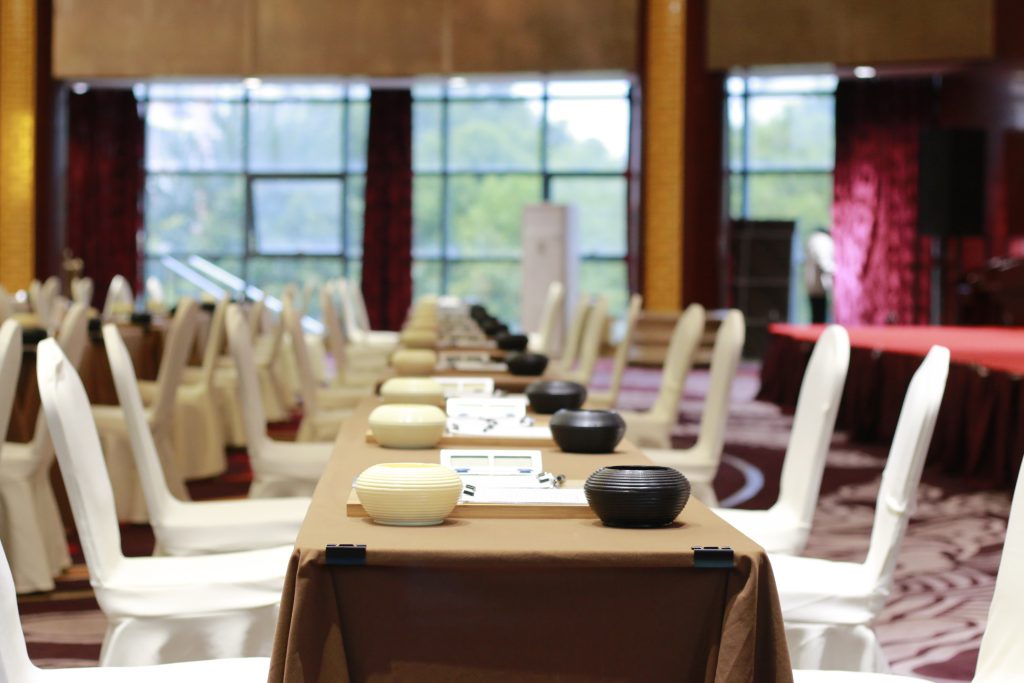 Some of them are renju players, some are renju coaches, some are school teachers, some are college students, they all love renju.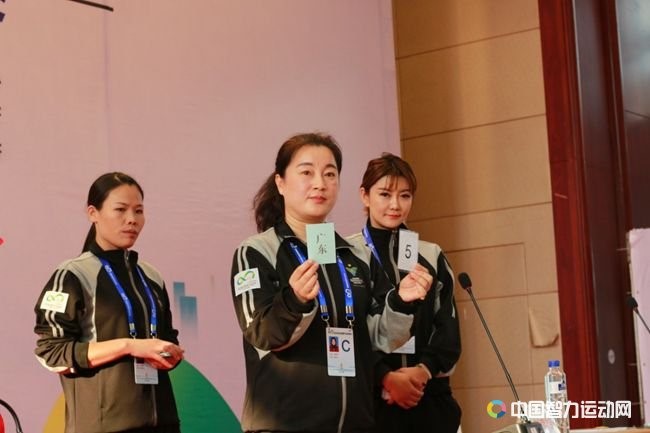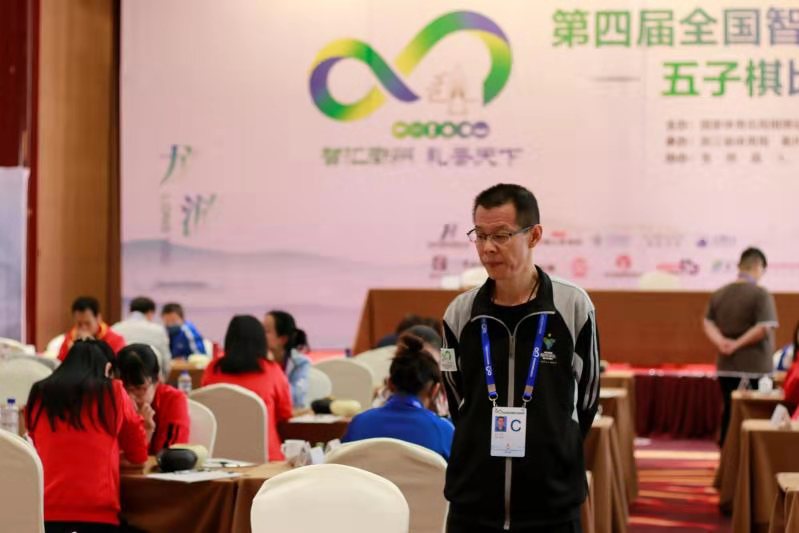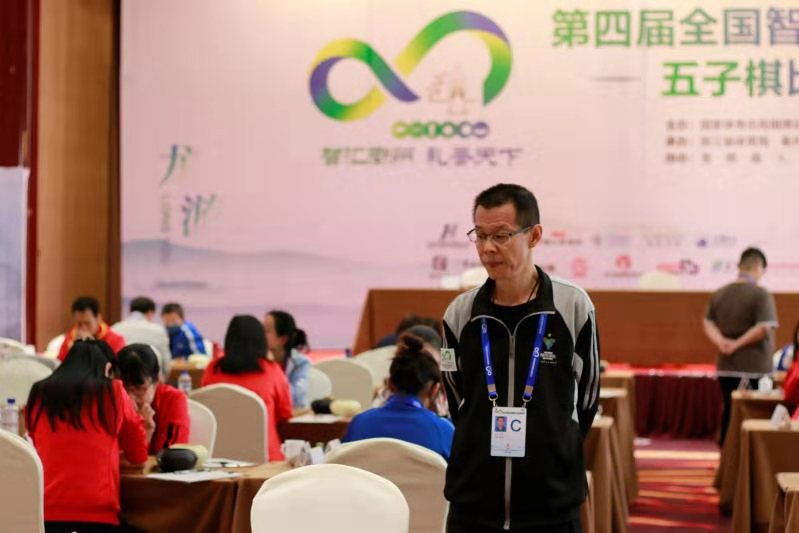 Tang had done the referee word of 2nd and 3rd Mind Sports Games. He has been promoting renju by teaching teenagers and kindergarten children from 2009. He set up a local renju association in Ningbo (Shuxing Qiyuan), during the weekends he taught students at Qiyuan.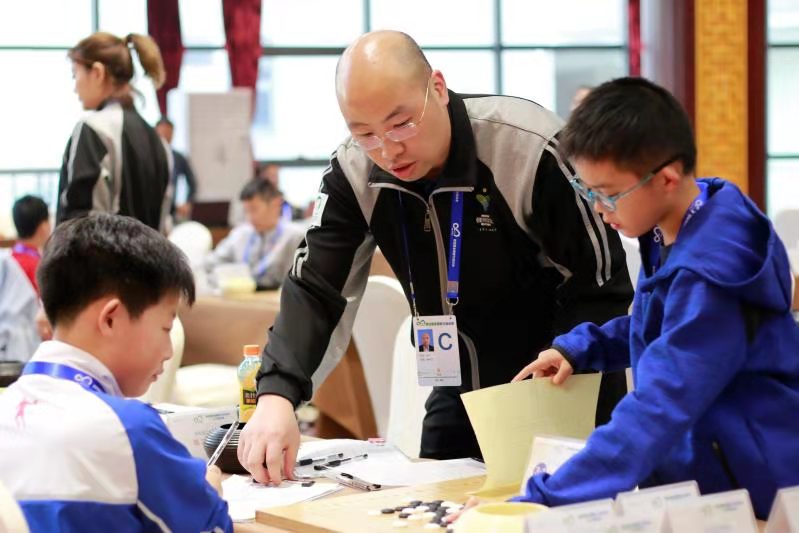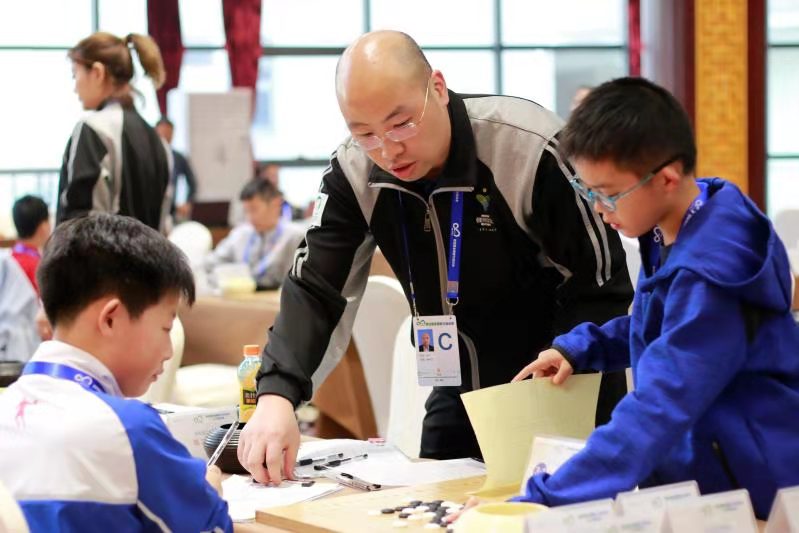 Zhao works at a real estate company. He learn renju from 2003, then got National Renju Coach Certificate and National Renju Referee Certificate. He did renju education and promotion during his spare time at Henan Sports Center. In the past several years he leads Henan team got many medals. What's more, he was "National Excellent Renju Coach".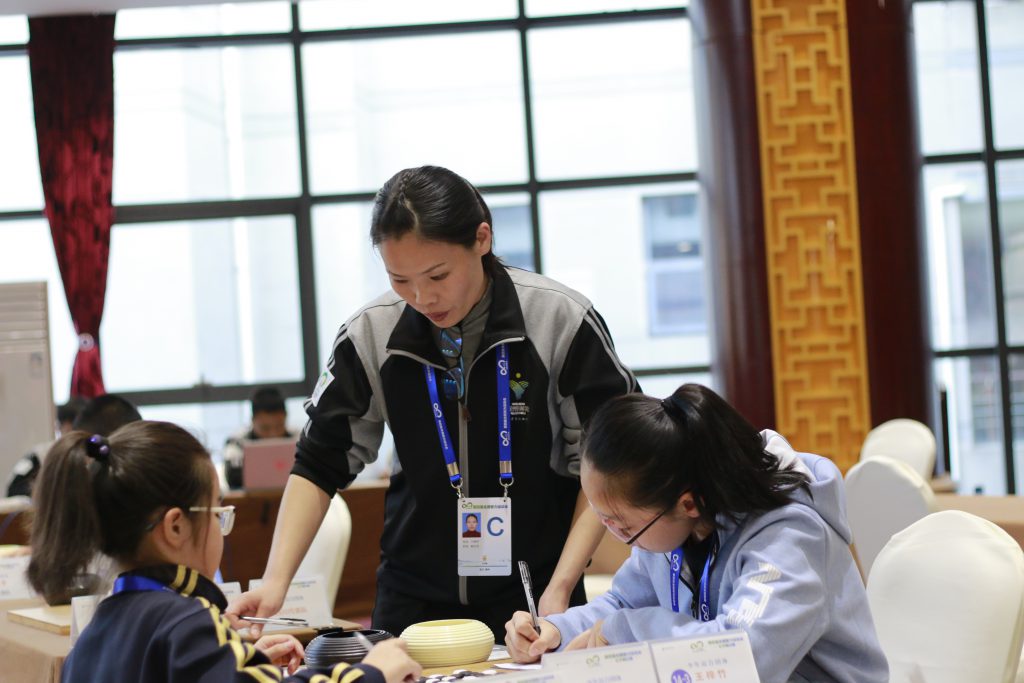 Bian is the principal of a kindergarten, she did referee in the Jiangsu Mind Games of Renju. She always take things serious. This time, besides the referee work she also took charge of facilities.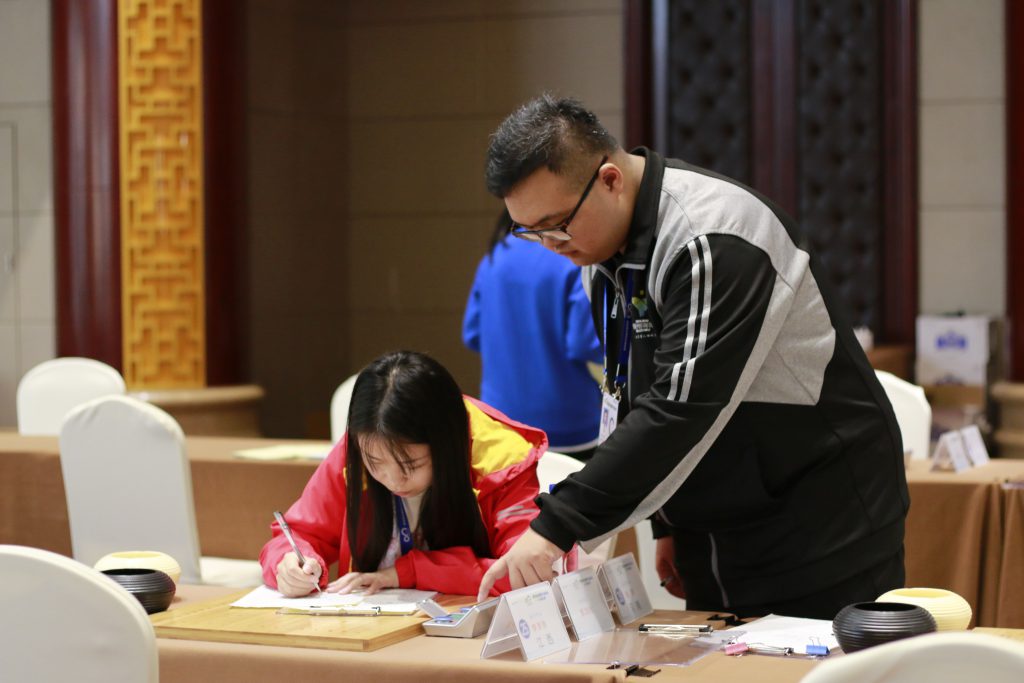 He was born in 1998, just graduated from college, 4 dan renju player. Started learning renju from 2012, got 3rd in Jilin teenage renju tournament. He had won college group, college team group, men group and men team group of Jilin, totally 4 Jilin province champions. He had Chief referee of 2019 Jilin tournament and was determined to promote renju in Jilin.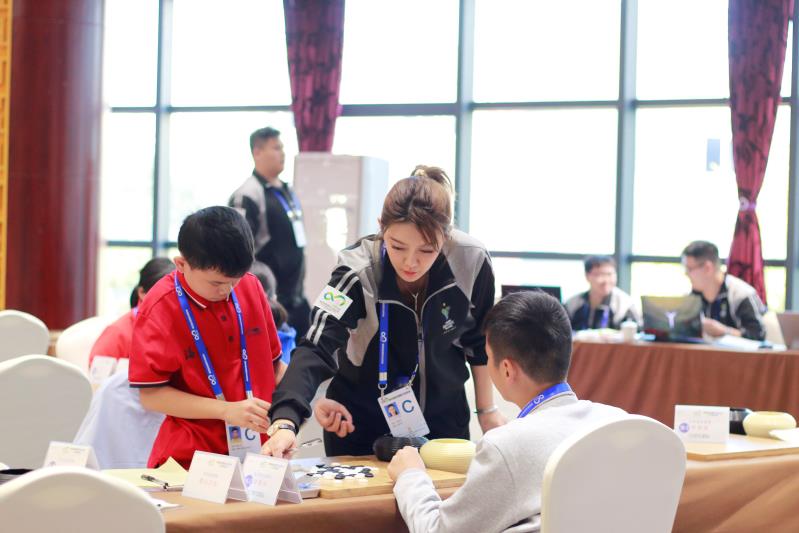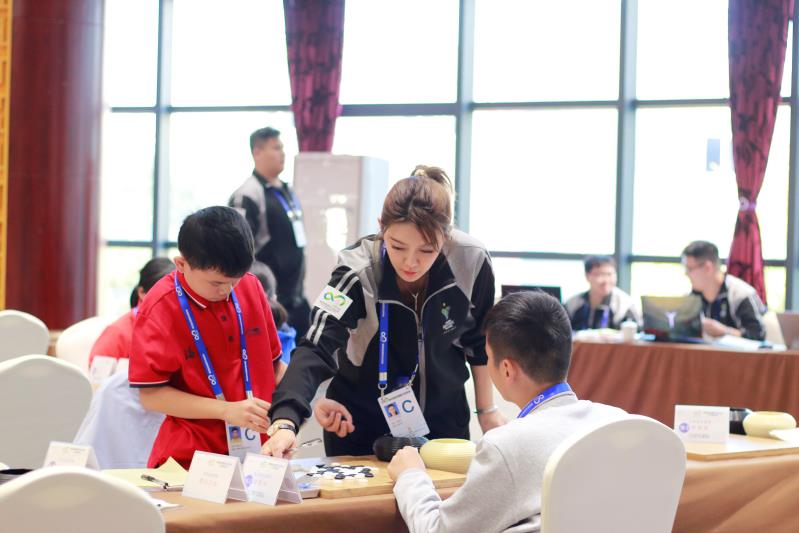 She is a model, host, etiquette trainer, teacher and referee for both go and checkers. She had been devoted to board game referee in Tianjin for many years.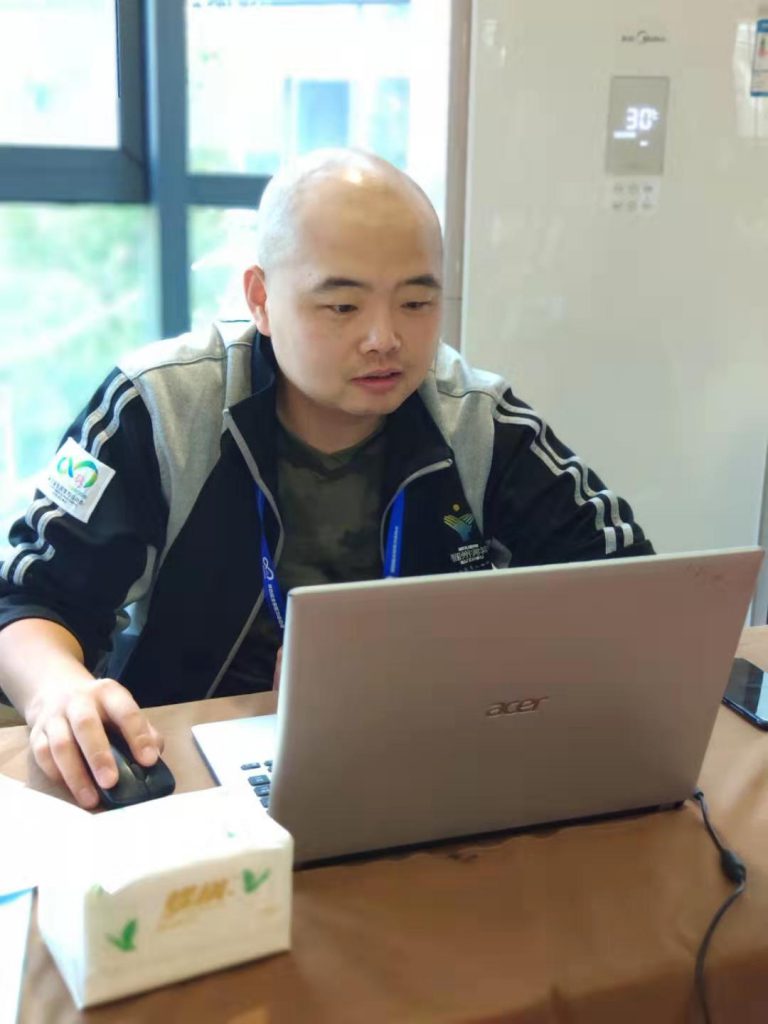 Diao deals with legal fairs for a machine manufacturing company. He is also the director of renju referee committee of Beijing board game association. Diao had been organizing renju tournaments in Beijing for more than 20 years. This time he took responsibility for the game record group.
Part III. 26 Players Attended All 4 National Mind Sports Games of Renju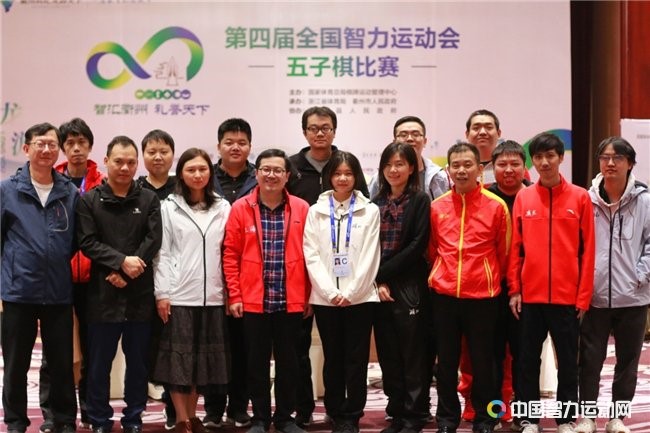 It had been 10 years from first National Mind Sports Games. During 10 years the sports items were increasing but our heart kept unchanged.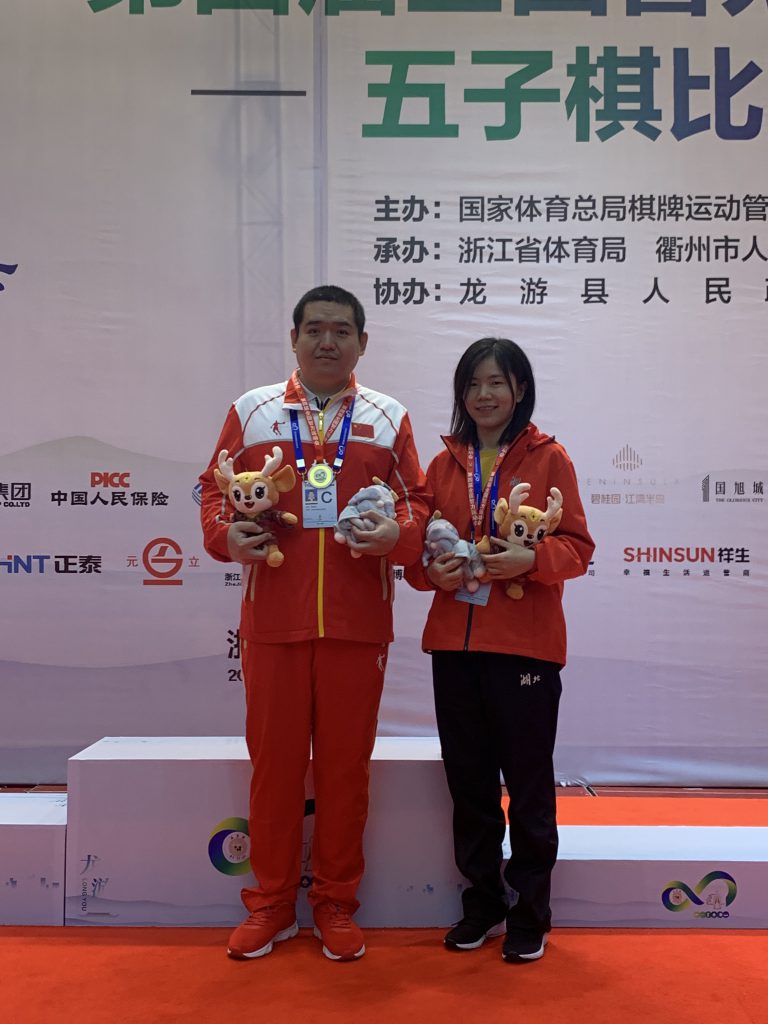 Part IV. Results
Men Group standings:
1
Yang Yanxi
Shandong
8
47.5
2
Jiang Qiwen
Shanghai
7.5
48
3
Ai Xianping
Liaoning
6.5
53.5
4
Zhu Jianfeng
Shanghai
6.5
49.5
5
Lu Hai
Hainan
6.5
48.5
37.5
6
6
Mei Fan
Hubei
6.5
48.5
37.5
5
7
Chen Jing
Jiangsu
6.5
48
37
8
Qi Guan
Sichuan
6.5
48
36.5
9
Lin Yizhong
Guangdong
6
46
10
Cao Dong
Hubei
6
44.5
11
Tan Xinlin
Liaoning
6
43
12
Huang Jianguang
Henan
6
42
13
Huang Yufeng
Shanghai
5.5
50
14
He Qifa
Guangdong
5.5
49
15
Zhang Yifeng
Jiangsu
48.5
38.5
5
16
Meng Jiehuan
Inner Mongolia
5.5
48.5
5
17
Xi Zhenyang
Jiangsu
5.5
48
18
Lan Zhiren
Shandong
5.5
43
19
Zhang Wenbo
Henan
5.5
40.5
32.5
20
Huang Liqin
Guangdong
5.5
40.5
31.5
21
Xia Sheng
Henan
5.5
39
22
Hong Shiguang
Jiangxi
5
48
36.5
23
Ge Lingfeng
Shanghai
5
48
36
24
Tang Shiqi
Jiangsu
5
47
25
Wang Qichao
Heilongjiang
5
45
26
Yin Licheng
Hubei
5
44.5
27
Huang Shengming
Hainan
5
44
28
Chen Jie
Hebei
5
41
29
Yang Tingyu
Beijing
5
40.5
31.5
30
Liu Chao
Henan
5
40.5
30.5
31
Zhan Liyang
Hubei
5
36.5
32
Liu Yang
Shandong
4.5
46.5
33
Xie Zengzhong
Fujian
4.5
45.5
34
Ni Zhongxing
Anhui
4.5
45
35
Xu Jiaqi
Hebei
4.5
43
36
Hu Yu
Beijing
4.5
42
37
Xie Weixiang
Zhejiang
4.5
40
38
Fan Xingcen
Zhejiang
4.5
38.5
39
Wang Qian
Chongqing
4
44.5
40
Huang Yifeng
Financial Sports
4
42.5
41
Yue Yongjian
Shaanxi
4
39
42
Tao Junji
Zhejiang
4
36
28.5
4
43
Li Shuo
Heilongjiang
4
36
28.5
4
44
Zhou Yuxin
Financial Sports
4
35.5
45
Yao Zhaoxian
Fujian
4
34.5
46
Hu Long
Yunnan
4
34
47
Zhu Kai
Guangdong
3.5
41
48
Chen Xin
Sichuan
3.5
40.5
49
Zhang Jiguo
Zhejiang
3.5
39.5
50
Zou Jialai
Heilongjiang
3.5
35.5
51
Huang Xiaoping
Chongqing
3.5
35
52
Wu Kan
Fujian
3.5
33
26
53
Zhang Yandi
Chongqing
3.5
33
25
54
Yang Shusen
Gansu
3.5
32.5
55
Chen Zhuoxian
Financial Sports
3.5
32.5
56
Shi Hexin
Financial Sports
3
38
57
Jiao Zhongqi
Ningxia
3
37.5
58
Li Gang
Gansu
3
31.5
59
Jin Donglei
Qinghai
3
31
60
Yan Jiajun
Jiangxi
3
29.5
61
Wang Hanyu
Qingdao
2
34
62
Wang Lancheng
Gansu
2
30.5
63
Li Zekai
Qingdao
2
30
64
Wang Tianyu
Qingdao
2
29
65
Zhou Ruilei
Jiangxi
2
26
Women Group standings:
1
Wang Qingqing
Hubei
8.5
51
2
Li Xiaoqing
Sichuan
7.5
51.5
3
Wu Zhiqin
Hubei
6.5
54.5
4
Liu Xun
Hubei
6.5
50
5
Dong Xiaoli
Hubei
6.5
49.5
6
Shen Lanxin
Sichuan
6
51
7
Zheng Weinan
Shanghai
6
48
8
Wan Junhong
Liaoning
6
42.5
9
Li Zhuowen
Jilin
6
42
10
Xiao Huifang
Jiangsu
5.5
51.5
11
Huo Jiuxu
Henan
5.5
48
12
Liu Qin
Sichuan
5.5
47.5
13
Wang Yelin
Shandong
5.5
43
14
He Xian
Shandong
5.5
42
15
Cheng Yanzhen
Zhejiang
5
51
16
Jin Yichan
Zhejiang
5
46
17
Dong Chenying
Shanghai
5
45.5
18
Xu Lingqin
Zhejiang
5
42
34
19
Yu Yajun
Hainan
5
42
33
20
Wang Zhe
Shanghai
5
40.5
21
Cao Xueyu
Beijing
5
39
22
Peng Lulu
Beijing
5
35.5
23
Zhu Xiaojuan
Yunnan
4.5
48.5
24
Xu Jiaxin
Shanghai
4.5
41
25
Zhang Peipei
Shaanxi
4.5
40
26
Jin Meng
Henan
4.5
39.5
27
Liu Zhao
Hebei
4
41.5
28
Yu Yaping
Guangdong
4
40.5
32.5
29
Zheng Yining
Zhejiang
4
40.5
32
30
Feng Jiao
Shaanxi
4
37.5
31
Feng Ting
Financial Sports
4
36
29.5
32
Zhao Meiyu
Heilongjiang
4
36
28
33
Zhao Haixia
Inner Mongolia
4
34.5
34
He Yinfei
Gansu
4
31
35
Li Xiaofang
Guangdong
3.5
40.5
36
Guo Meng
Tibet
3.5
37
37
Chen Jing
Gansu
3.5
36
27
3
38
Lu Lu
Financial Sports
3.5
36
27
3
39
Gong Xiuqin
Qinghai
3.5
34
40
Mao Wenjing
Jiangxi
3.5
31.5
41
Zhou Wen
Jiangxi
3.5
28.5
42
Wang Na
Jiangxi
3
35.5
43
Yin Huijuan
Financial Sports
3
31.5
44
Guo Ling
Inner Mongolia
2.5
32.5
45
Li Mengting
Jiangxi
2.5
29.5
46
Shao Ying
Gansu
2
33
47
Liu Jing
Ningxia
1.5
32.5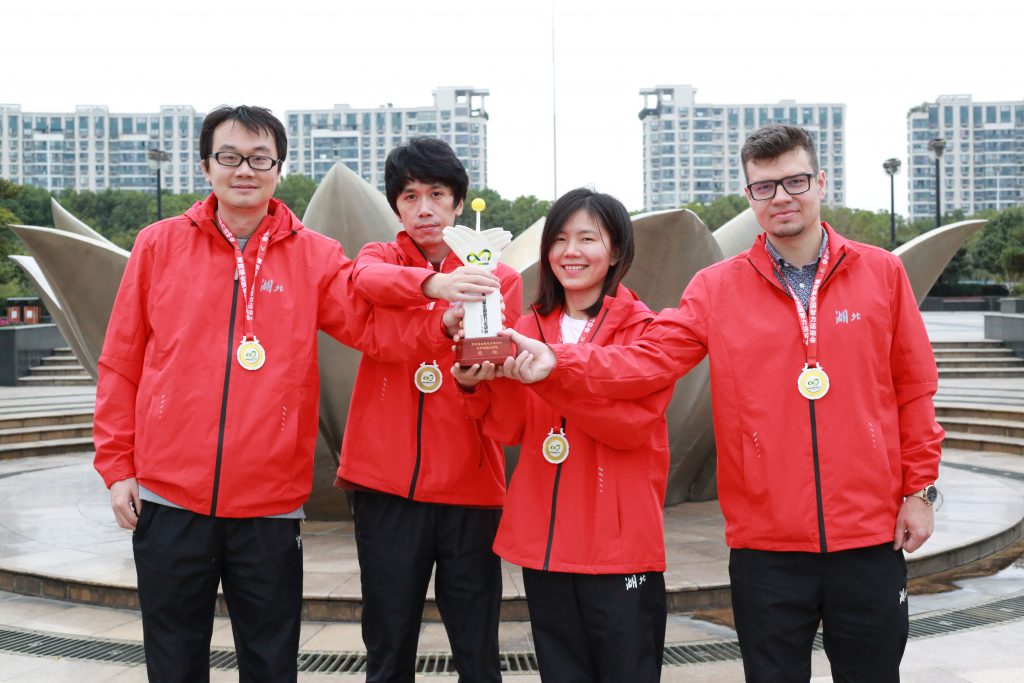 Mixed Team Tournament standings:
Hubei (Cao Dong, Mei Fan, Wang Qingqing), 5.5, 31.5
Jiangsu (Xi Zhenyang, Chen Jing, Xiao Huifang), 5.5, 29.5
Shanghai (Zhu Jianfeng, Jiang Qiwen, Zheng Weinan), 5.5, 27.0
Hainan (Lu Hai, Huang Shengming, Yu Yanjun), 5, 31.0
Zhejiang (Xie Weixiang, Zhang Jiguo, Cheng Yanzhen), 5, 22.5
Shandong (Liu Yang, Yang Yanxi, Wang Yelin), 4, 30.5
Sichuan (Qi Guan, Chen Xin, Li Xiaoqing), 4, 28.0
Liaoning (Ai Xianping, Tan Xinlin, Wan Junhong), 4, 27.5
Guangdong (He Qifa, Huang Liqin, Yu Yaping), 4, 25.5
Henan (Huang Jianguang, Xia Sheng, Huo Jiuxu), 4, 20.5
Beijing (Zhu Tianyi, Shi Xiaolin, Cao Xueyu), 3.5, 29.5
Shaanxi (Zhang Xiaojian, Ma Hongzhou, Liu Hongping), 3, 25.5
Inner Mongolia (Meng Jiehuan, Zeng Yijiang, Zhao Haixia), 3, 25.0
Yunnan (Hu Long, Zhang Yuhong, Zhu Xiaojuan), 3, 24.0
Hebei (Chen Jie, Xu Jiaqi, Liu Zhao), 3, 19.0
Heilongjiang (Wang Qichao, Li Shuo, Zhao Meiyu), 3, 15.5
Financial Sports (Zhou Wentao, Shi Hexin, Cai Qing), 2, 21.0
Qinghai (Jin Donglei, Wang Fangwen, Gong Xiuqin), 2, 16.0
Jiangxi (Yan Jiajun, Zhou Ruilei, Zhou Wen), 1, 22.5
Qingdao (Hu Wenyuan, Liu Jiahui, Wu Tong), 0, 19.5
Children Team Tournament standings:
1. Shanghai (Kang Zheming, Zhang Xiuqi, Zhang Xinyi), 5.5, 29.5
2. Shandong (Jiao Zhengrui, Li Jiajun, Wang Jiayi), 5.5, 28.0
3. Zhejiang (Kang Tingrui, Lei Yufei, Zhang Yunshu), 5, 29.5
4. Ningbo (Li Bolai, Chen Zihan, Wang Kemiao), 5, 26.5
5. Sichuan (Zhang Shuhao, He Shirui, He Lewei), 5, 24.5
6. Hubei (He Yucheng, Ma Chenzhi, Wu Yufan), 4, 33.0
7. Guangdong (Huang Yi, Wu Junlang, Pan Yixuan), 4, 27.0
8. Heilongjiang (Lü Xinghan, Wang Jingrui, Wang Zizhu), 4, 24.5
9. Hebei (Zhou Zijian, Yin Haoxuan, Gong Yixuan), 4, 18.5
10. Jiangsu (Lin Xinping, Xu Chengxiang, Liu Shaoqi), 3.5, 29.0
11. Hunan (Li Jiapeng, Li Wenda, Wang Huiyi), 3.5, 21.5
12. Beijing (Yang Wenjun, Zhang Zhihao, Zhou Xiaoyan), 3, 25.5
13. Qingdao (Liu Runze, Wei Shuhuai, Wang Yue), 3, 24.0
14. Hainan (Chen Hongquan, Han Ningyuan, Ma Yike), 3, 20.0
15. Inner Mongolia (Nie Hehong, Yang Zetai, Li Jiatong), 2.5, 20.5
16. Shaanxi (Ren Xinyang, Wang Huanyu, Ma Siyu), 1.5, 24.5
17. Ningxia (Zhang Tiantai, Deng Yingdong, Cheng Jia), 1, 20.5
Individual boys top 3:

1. Zhang Xiuqi, Shanghai
2. Kang Zheming, Shanghai
3. Kang Tinrui, Zhejiang
Individual girls top 3:

1. Wang Kemiao, Ningbo
2. Zhang Yunshu, Zhejiang
3. Yao Jiaying, Shanghai