After a long break Latvia is back hosting an international event, the Riga Open. Gomoku tournament had 50 participants and Renju Masters and Beginners tournaments together 40 participants. Latvia is by no means a newbie in the renju world as from the past they have several strong results topping with such great achievement as their own grandmaster Aldis Reims won bronze medal already in the 1993 World Championship AT Final.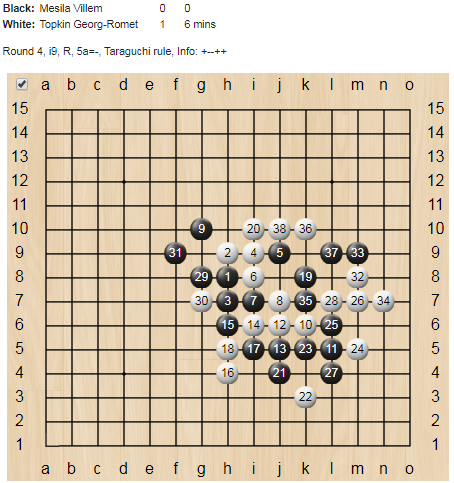 Deserved recognition to the Renju Masters tournament winner 19-year old Estonian player Georg-Romet Topkin as he recently won reputable Tallinn Open 2018 in December where he also managed to beat World Champion Vladimir Sushkov. In the last round Johann Lents went to play aggressive opening to stop the leader but failed the attack. Topkin agreed draw offer in the better position in time trouble to win the tournament. Silver medal was achieved by Villem Mesila`s (Estonia) strong performance and bronze by highest rated Dmitry Epifanov (Russia).

Its the development of youth and beginners that matters in long perspective. Congratulations to Kenert Kõve, Paul Johann Mere and Oliver Ilu for an excellent performance winning top places in the beginners tournament.

You can find all standings of the tournaments under renju.net tournaments.
1 Georg-Romet Topkin
2 Villem Mesila
3 Dmitry Epifanov
4 Johann Lents
5 Martin Hobemagi
6 Timo Ilu
7 Ilya Katsev
8 Tauri Purk
9 Kuno Kolk
10 Sander Piik
…
Top 10 of Renju Beginners tournament:
1 Kenert Kõve
2 Paul Johann Mere
3 Oliver Ilu
4 Daria Churikova
5 Georgi Puzanov
6 Dmitri Zhirov
7 Valeria Cagina
8 Sebastian Lents
9 Carl Markus Dalton
10 Sander Tali
…

Perhaps more excitingly developed the Gomoku tournament which had 50 participants played with preliminary tournament and playoffs. There was close battle for the first places in preliminary tournament: two players were ahaed of the rest of the field this time the 28-year old Latvia`s own online crusher on his 4th live tournament Matiss Riherts and the experienced renju&gomoku player Timo Ilu. One but last round Martin Hõbemägi managed to beat Timo and in the last round Matiss managed to outplay Martin to win the preliminary tournament.

Martin had a powerful 8 games winning streak missing two first rounds due to university studies only to lose one game to Matiss. In the end it came out to be the only game he lost as he gave no chances to opponents in the playoffs beating Tauri Purk in the quarter final, revenge against Matiss in the semifinal and finally the Ukranian Oleg Bulatovski in the final. Therefore Bulatovski achieved silver and Matiss won bronze medal overcoming Timo Ilu in the battle for the 3rd place.


Playoffs:
1/8:
Matiss-Kuno 1-0
Timo-Magnus 1-0
Georg-R – Mari 1-0
Martin-Filip 1-0
Tauri-Karl-M 1-0
Oleg – Sander 1-0
Markus – Villem 0-1
Ilya-Rauno 1-0
¼
Matiss- Ilya 1:0
Martin – Tauri 1-0
Timo – Villem 1-0
Georg – Oleg: 0-1
Semi-finals:
Timo – Oleg 0:1
Matiss – Martin 0:1
3rd place:
Matiss – Timo 1:0

Final:
Martin – Oleg 1:0

All the standings can be seen under renju.net tournaments.