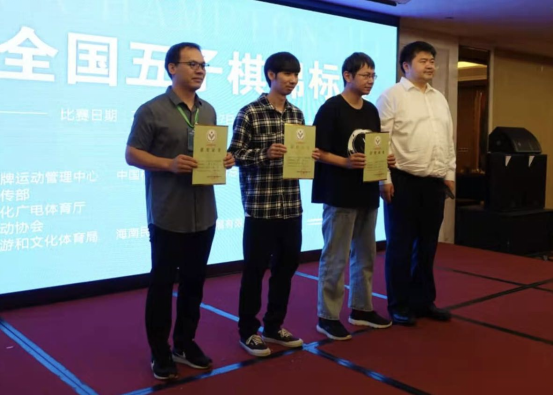 A very tough Chinese National Championship was played this year in perhaps my favourite renju place to travel in China besides Wuhan, the Haikou city. It is the capital and most populous city of the Chinese province of Hainan, a beautiful southern island of China.

Hainan, separated by the 20 km wide Qiongzhou Strait from the Leizhou Peninsula of Guangdong, is one of the largest islands of China and the 42nd largest in the world.
Hainan, Wade-Giles romanization Hai-nan, sheng (province) in southern China. It`s name means "south of the sea." The main land territory of the province is coextensive with Hainan Island and a handful of nearby offshore islands located in the South China Sea and separated from the Leizhou Peninsula of southern Guangdong province to the north by the shallow and narrow Hainan Strait (Qiongzhou Haixia). The west coast of Hainan Island is some 320 km east of northern Vietnam, across the Gulf of Tonkin.
Hainan is the southernmost province of China and is also the smallest in terms of land area. For centuries Hainan was part of Guangdong province, but in 1988 this resource-rich tropical region became a separate province.
We have a dream about starting to hold a big yearly international sponsored tournament there in 3-5 years. There were discussions about it before the corona and it is somewhat paused at the moment but we are hoping that it will be possible to start to work for that to still manifest in the future.
You can check previous news about the tournaments in Hainan:
https://renjunews.com/chinese-national-championship-in-hainan-haikou/
https://renjunews.com/chinese-national-elite-championship-final-standings/
https://renjunews.com/78-teams-compete-for-medals-in-chinese-renju-national-championship/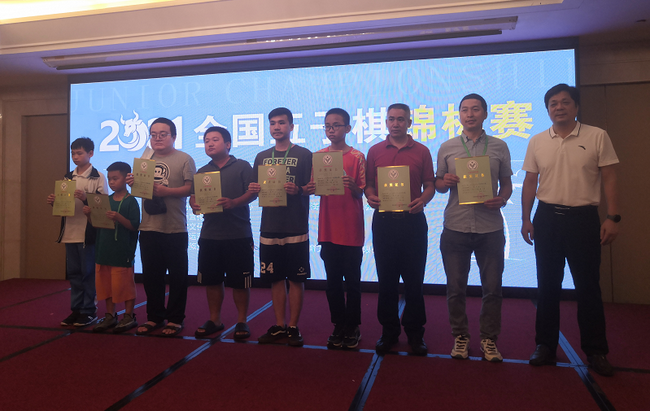 Men competition standings:
Date: October 5-7, 2021
Rule: Yamaguchi
Time: 60 minutes per game + 30 seconds per move
Click here to see the games in renju.net

1. Huang Liqin, Chengdu, 6, 30.0
2. He Qifa, Anhui, 5.5, 27.5
3. Jiang Qiwen, Shanghai, 5, 30.5
4. Chen Xin, Chengdu, 5, 28.5
5. Wu Di, Hangzhou, 5, 28.0
6. Mei Fan, Hubei, 4.5, 30.0
7. Cao Dong, Hubei 4.5, 29.0
8. He Shujun, Hunan, 4.5, 26.5
9. Lu Hai, Hubei, 4, 27.0
10. Huang Shengming, 4, 26.5
11. Ni Zhongxing, Chengdu, 4, 26.0
12. Ai Xianping, Hubei, 4, 25.5
13. Xu Yikuan, Hangzhou, 4, 25.0
14. Jin Hongli, Hainan, 4, 24.5
15. Huang Daxing, Dalian, 4, 23.5
16. Zhang Xiaojian, Chengdu, 3.5, 28.5
17. Meng Jiehuan, Guangxi, 3.5, 26.5
18. Hong Shiguang, Anhui, 3.5, 22.5
19. Chen Zhu, Anhui, 3.5, 20.0
20. Huang Jinxian, Guangdong, 3, 27.5
21. Wang Youzhi, Guangdong, 3, 21.5
22. Fu Liang, Shaanxi, 3, 21.0
23. Xiao Yikang, Hainan, 3, 20.5
24. Liao Yi, Hunan, 3, 19.0
25. Wu You, Hebei, 2.5, 22.5
26. Wu Baogang, Shaanxi, 2.5, 20.5
27. Liu Chao, Hebei, 2, 27.0
28. Zhang Jiguo, Hangzhou, 2, 23.5
29. Chen Guanhui, Guangdong, 2, 23.0
30, Lian Heqi, Hebei, 2, 20.5
31. Lu Yi, Hangzhou, 2, 18.5
32. Wang Ruiguo, Hainan, 0. 12,5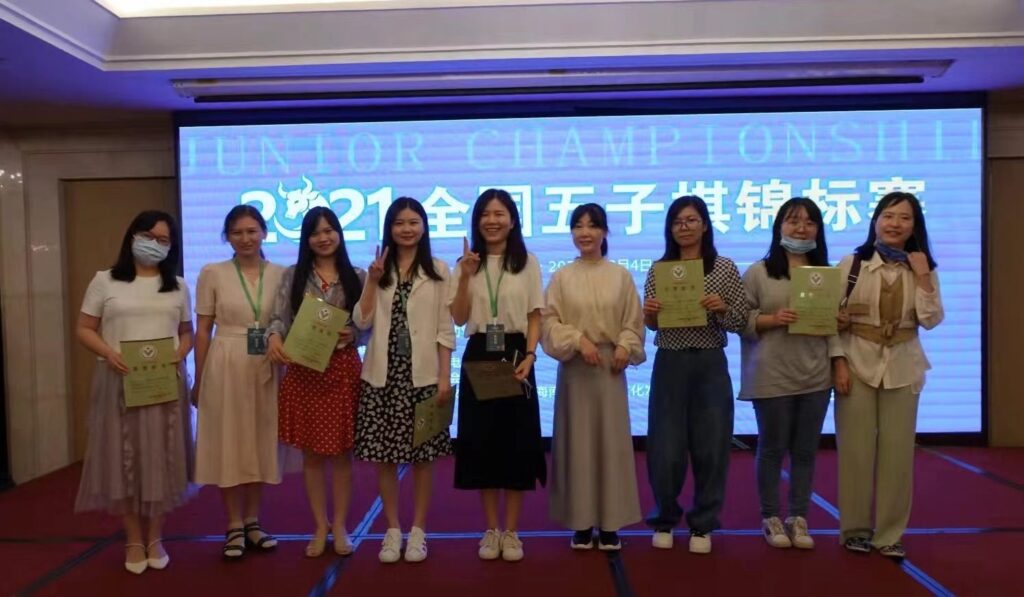 Women competition standings:
Date: October 5-7, 2021
Rule: Yamaguchi
Time: 60 minutes per game + 30 seconds per move
Click to see the games in renju.net
1. Wang Qingqing, Hubei, 6.5, 26.5
2. Li Xiaoqing, Shanghai, 5.5, 30.5
3. Huang Xiangning, Hubei, 5.5, 25.5
4. Liu Xun, Hubei, 4.5, 20.5
5. Shen Lanxin, Shanghai, 4, 32.5
6. Cheng Yanzhen, Guangxi, 4, 26.5
7. Huo Jiuxu, Hebei, 4, 21.0
8. Wan Junhong, Chengdu, 3.5, 31.0
9. Yu Yajun, Hainan, 3.5, 24.0
10. Wang Yelin, Guangxi, 3, 27.5
11. Chen Yue, Anhui, 3, 25.0
12. Zhang Xiaoting, Hunan, 3, 24.0
13. Fang Guanping, Hainan, 3, 23.5
14. Zhang Peipei, Shaanxi, 3, 18.5
15. Wu Lina, Chengdu, 2.5, 25.5
16. Gong Yixuan, Hebbei, 2, 25.0
17. Ge Yuwei, Hunan, 1.5, 21.5